Home page

Home Of Carlsbad Alkaline Artesian Mineral Water
one block from

a beach

in beautiful down town historic Village of Carlsbad

See Our Carlsbad Water On Ellen DeGeneres TV Show
Click on this link www.gloublog.net/?p=3195
THANK YOU VERY MUCH Shailene Woodley and Ellen DeGeneres for being so generous
and sharing our Carlsbad Alkaline Therapeutic Living Water with millions of people on the
Ellen's famous TV show.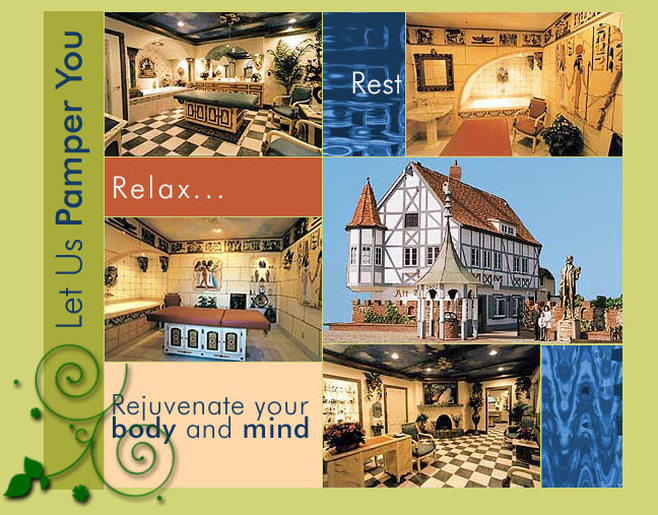 ---
Experience spa treatments in beautiful
Exotic Oriental couples room, Egyptian Cleopatra & Roman Caesar rooms
Couples treatments and mineral baths are available in our Exotic Oriental Room

Carlsbad Mineral Water Spa was voted #1 three years in a row for the Best Massage by
Entertainer and
Lifestyle Magazine readers.
Situated at the edge of downtown Carlsbad Village with its many antique shops and
award-winning
restaurants,
Carlsbad Mineral Water Spa

is an easy drive from
Los Angeles and San Diego, and only
a
short distance from
1-5. For those who
prefer
the train,

Carlsbad mineral Water Spa

is just one
block
from the
Carlsbad
Coaster
train station, and only three miles from the
Oceanside Amtrak depot.
Gift Certificates for Men and Women and can be purchased by the phone or in person
All of your treatments are done in private theme rooms and your therapist will work
with you from beginning to the end with no interruption or waiting time between
treatments providing you complete relaxation.
All therapist are professionally licensed
and highly trained.
Hours:
Monday-Sunday
9:00am-6:00pm
Evening hours available by appointment.
Open holidays, except Thanksgiving and Christmas
American Express, Cash, MasterCard, Visa, and Travelers Checks
(*3% service charge will be added to all credit card transactions.)
History Of Carlsbad Alkaline Artesian Mineral Water
Carlsbad
Mineral Water was discovered in 1882 by Capt. John Frazier when he drilled
a well for his farm near the beach. The alkaline mineral water cured a stomach ailment
from which Capt. Frazier had suffered for years. Intrigued, he sent samples of the water
to two independent testing laboratories in New York and Chicago. The results showed
his water was chemically very similar to the healing spring mineral waters found in a
famous European spa resort that was at that time called Carlsbad, in Bohemia (Today,
the city is Karlovy Vary, Czech Republic, and is still famous for its therapeutic spas.)
One
of California's real estate booms was happening at the time, and Capt. Frazier
platted his farm for a city that he called Carlsbad. He also started bottling his water
and selling it across the nation as (The American) Carlsbad Mineral Water. He built a
huge Victorian hotel beside his original well, and people came from all over the world
and included at least two U.S. presidents
enjoying the alkaline mineral water for
drinking and for bathing, just as they would in the European Carlsbad.
The
real estate boom of the 1880s crashed, but Carlsbad Alkaline mineral water
continued to be popular until the Great Depression, when the well was abandoned
because the owners lacked the funds for maintenance.
The
well was lost until it was rediscovered in 1955 by Kay and "Chris" Christiansen.
The Christiansens wanted to restore the well and revive the mineral-water business,
but for various reasons they could not do so. In 1991, Kay met Ludvik & Veronica
Grigoras, who became interested in helping her with her dream.
Ludvik had been born in Karlovy Vary, when it was Czechoslovakia and under
Communist rule. He escaped at the age of 18 to Austria and lived in Germany for
two years. He immigrated to the United States, New York City in 1971.
From
1993 to 1995, Ludvik and his wife Veronica worked at restoring and re-drilling
the well. By this time, Ludvik had been instrumental in forging a sister-city relationship
between his birthplace of Karlovy Vary and Carlsbad, Calif. In late 1995, the mayor
and city council of Carlsbad, along with an official delegation from Karlovy Vary,
officiated at the formal re-opening of the Carlsbad Mineral Water Artesian Well. In
June 1996, famous therapeutic
Carlsbad Alkaline Water™
finally ­after an
absence of 60 years ­once again became available to the public.
Carlsbad Alkaline Water
Carlsbad Mineral Water Spa

2802 Carlsbad Blvd, Carlsbad, CA 92008
Phone 760 434-1887
Local Hotels:
Beach Terrace Inn

Best Western Beach

Carlsbad Inn

Comfort Suites

Encinitas Suites


Grand Pacific Palisades

Hilton Garden

Holiday Inn

La Quinta Inn

Marina Inn


Marriott Courtyard

Marriott Residence Inn

Ocean Palms Resort

Quality Inn

Pelican Cove-

Bed & Breakfast


Ramada Inn

Seapointe Resort

Seashore On The Sand

Surf Motel

Tamarak Beach Resort

W

est Inn

Residence Inn Oceanside

760 729-5951 Carlsbad

760 729-1151 Carlsbad

760 434-7020 Carlsbad

760 722-8880 Oceanside

760 942-7455 Encinitas


760 827-3200 Carlsbad

760 476-0800 Carlsbad

760 438-7880 Carlsbad

760 438-2828 Carlsbad

760 722-1561 Oceanside


760 431-9399 Carlsbad

760 431-9999 Carlsbad

760 729-2493 Carlsbad

760 931-1185 Carlsbad

760 434-5995 Carlsbad

760 438-2285 Carlsbad

760 603-1700 Carlsbad

760 434-6679 Carlsbad

760 729-7961 Carlsbad

760 729-3500 Carlsbad

760

448-4500 Carlsbad

760 722-9600 Oceanside
Other Service
Please contact us regarding your spa treatment or our therapeutic
Carlsbad Alkaline Artesian Water